Reviews
Typical Inn B&B

in the Center of Venice
The most important thing for us at Ca' del Brocchi is the satisfaction of our guests. Here you can read the reviews our customers dedicated to us: we'd love to read yours too and help us improve!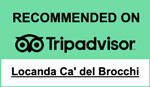 Such a superb location! Like others have said, close to everything but super quiet. Beautiful canal nearby. I was absolutely blown away by how wonderful everything was. The staff were all charming, friendly, and super helpful. I can't wait to go back — it was hard to leave! A dream spot in a dream city.
Terra, Ireland


Perfect location in a really beautiful and artsy area. Much quieter than the main tourist spots yet only a 15 minute walk to get to the main action. And it's a lovely walk too. Room was huge and very quiet at night.
I would definitely stay again if I ever get the chance. Excellent value for money, would highly recommend.
Jennifer, United Kingdom


Everything was very comfortable,such a cosy and pretty place! This hotel in such a quiet area,we love it,after long tiring day was very nice to come back here,all rooms I think have sound isolation,because we didn't hear someone all the time,so we kinda feel that place is our. Very nice people at the reception,friendly and helpful,easy check in,you just need a call,usually they not there,but in case of problems they will come quickly. So you just go by yourself,so you really feel like you are alone at the hotel,it feels nice. For this price we didn't expect to get so nice and comfortable room in good area. So absolutely recommended! Also room was very warm and we always had warm water in the shower,which was unlimited,it's my 5th time and Italy and usually they really have problems with that.Wi-Fi was also good.Thank you so much,we enjoyed our staying here!
Ivan, Hungary


Staff was truely helpful and kind, going above and beyond to make my stay as pleasant as possible.
The location is great, within walking distance from mainly all attractions. The room itself clean, spacious and uniquely decorated in baroque style. Would definitely recommend.
Carmen, Switzerland


The decoration is really nice and Venetian style. The hotel is close to the grand canal in the southern part of the city. They allowed us to leave our luggage in the hotel after check out for us to walk around the city.
Catarina, Sweden


We booked a small room without breakfast. And the room was small, so everything is fair. The bathroom is just a dream – quality things, soft towels, warm water without waiting. The bed was nice. It was quiet at night.
Ksenia, Germany


Really enjoyed our stay here. Place is clean and location is great. The staff, sorry I forgot her name, was cheerful and very helpful. She even walked us to the pick up location for water taxi after we checked out.
Ferdinand, Canada


The rooms were dreamy almost felt like a fairytale! And the area was very quite but wasn't too far away from all the shops etc. Also it's a perfect place for a couple.
Christiana, Cyprus


Very good location in a quiet and athentic place in venice…less 10 minutes by walking from accademia bridge and musuem, 15 minutes walk distance san marco…the room was very clean with a very beautiful decoration, like a venitian palace…staff is very kind and helpful…thank you so much to the receptionnist…for the check in my wi fi was not working and i was a little lost…i called and immediately he met me to go with me to the hotel…
Carine, France